20.12.2019
The Best (Free) Parking Games for Mobile 2020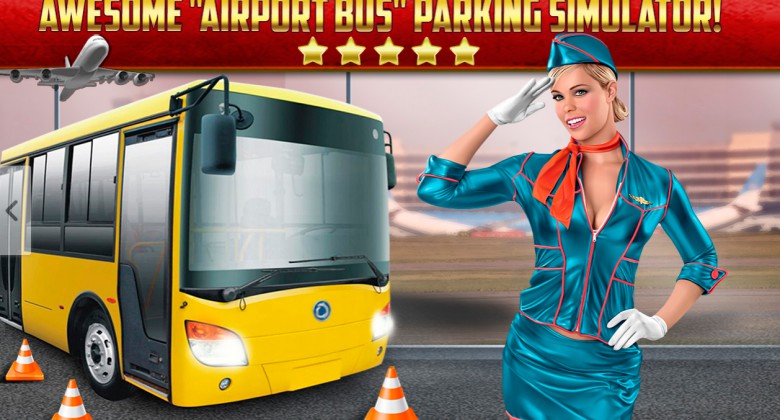 You might think it's a boring category for games… but there's nothing wrong with parking games! In the western or developed world, driving vehicles is the most dangerous activity we engage in, and on a regular basis.
Parking our vehicles can actually be where we make the worst mistakes, or we can get ourselves into embarrassing trouble on busy roadsides, in built-up or inner-city urban areas. Many people actually have a phobia about driving largely down to this aspect, especially if they live in cities, or suffer a bad experience.
Well, parking games can help to address these fears, and they can also be great fun tests of skill and coordination. You may not think so, but it's true! Let's take a look at some of the best parking games out there on the Amazon Appstore.
[Didn't know Amazon had an app store? Well now you do, plus it sends them straight to your phone with a click, if you're not already using your phone. First, you need to download the Amazon Appstore app. You'll also need to give your phone permission to install them. However, you'll probably find these games on other app stores too.]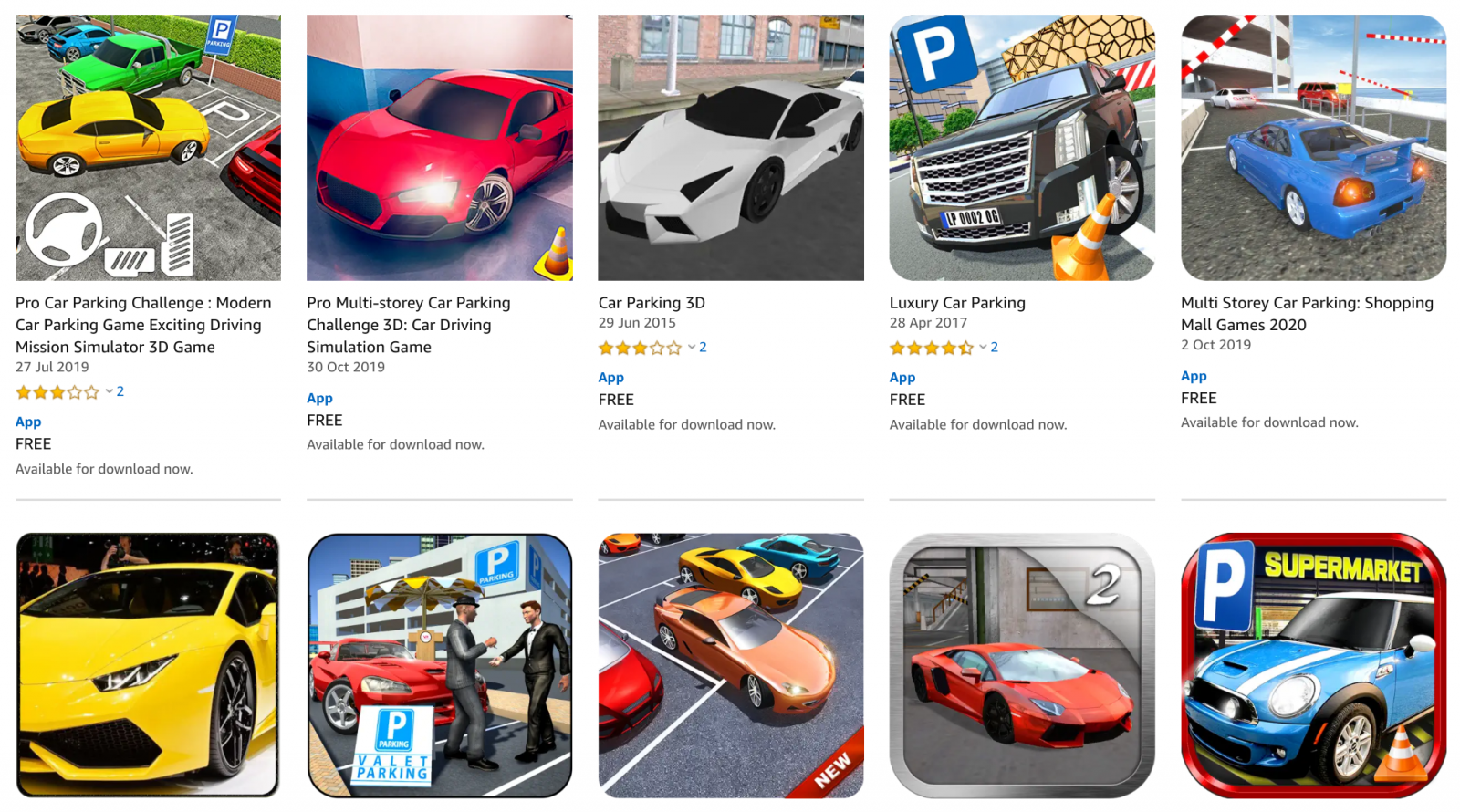 Let's take a look at Bus, Car, Boat and Tractor vehicle parking apps, so there's some variety. They're all free, but watch out for incoming ads and in-game purchases.


Airport Bus Parking Simulator (by Play with Games)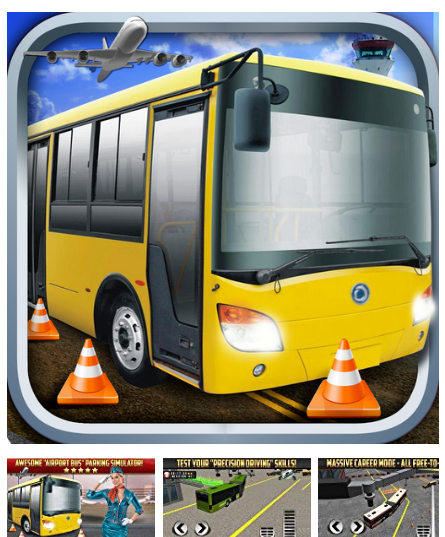 This comes top of our list as graphics and sound are excellent and the challenge of driving a bendy-bus is just much more interesting on a phone, even than parking a car perhaps.
First, you're given a choice of airports to be the bus driver for: New York, London or Tokyo. The User Interface gives you options for Normal (the free section), Fun, Baby (for toddlers to play), Kids and Deluxe. You can unlock any of these individually, which are basically game modes that are tailored for the right driver. There are 15 missions available in Normal mode.
What's also great is you the Options (hand) menu: you can customise the controls to suit your play style. However, that won't make the task of parking your bendy bus all that much easier or less of a fun challenge.
3D Car Parking Supermarket Simulator Game (by Play with Games)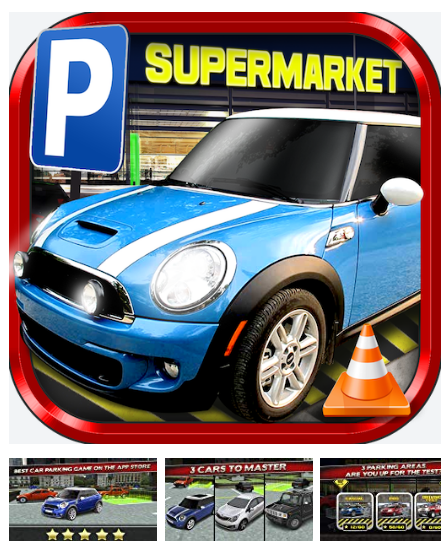 'Normal' mode is free, but to play Deluxe, Fun, Baby, Kids or No Ads you'll need to unlock for a varying sums. But the game is good quality, with nice graphics, menu options and level progression, by the same makers as the above Airport Bus Parking Simulator. There's also a Driving Test mode to see if you've got what it takes to prove your skill level.
3D Farm Tractor Parking Simulator (by GogzGames)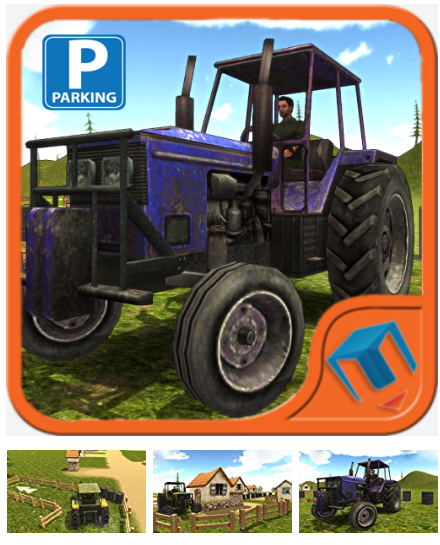 Nice guitar music, sound and graphics are a good sign as a flashy menu screen comes up. Indeed, it's a well-made tractor driving simulator, with a series of tricky obstacles on the farm, to keep you thinking carefully about your driving. A choice of two tractors, camera angles and driving styles are yours (you will need to change camera view!). It gives you 2 chances to hit something, but it's still a challenge. Watch out for those farm animals!
3D Taxi Parking Simulator - Free Car Driving Test Game (by Play with Games)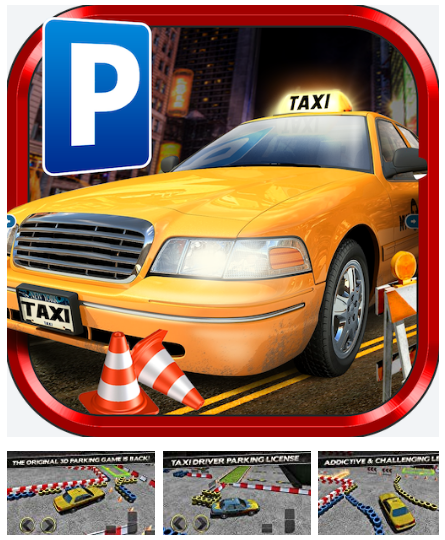 Another one by developers Play with Games, is similar to the above ones mentioned here, only with a taxi. That's no bad thing, as we get a good all-round taxi driving and parking challenges with familar UI and menus. Camera views include inside the car, and 3 different challenge modes: Speed Parking, Advanced Driving and Driving Test. A strong aspect is the green precision bar that tells you when you've parked correctly. Get in the green, and you're all clear.
Options Menu is nice to see: You can adjust sensitivity, use Tilt, Buttons or Wheel for controlling your cab. You also get to see something of what happens after you mess up with this one. And the best thing: no annoying ads, and the game actually encourages you to unlock it, by offering more extensive gameplay mode options, including as usual Kids Mode or Deluxe. I'm not sure kids would play a game like this for very long though.
Hey gamers, you're one (small) step closer to becoming a real taxi driver having played this. In fact, most vehicles!
City Car Parking 3D (by Baris Kaplan)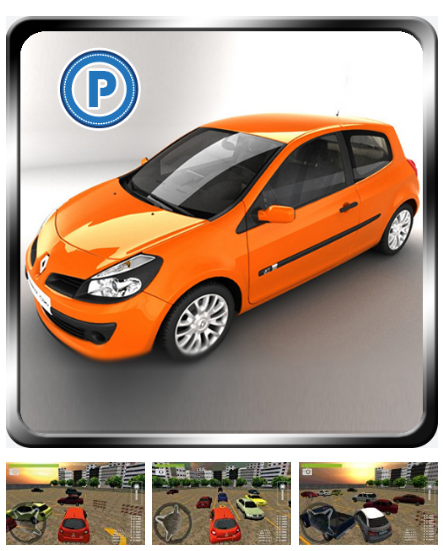 This is a good app, with decent graphics (especially the in-car view) and adverts that don't intrude on the actual gameplay (however, I don't see an option to remove them). There are only 2 'types' of car or colors, but there are multiple stages and the driving is a challenge, forcing you to take great care, which should be the point of parking games, shouldn't it? For being free and offering a driving challenge, it delivers.
Pro Car Parking Challenge (by Game Nest)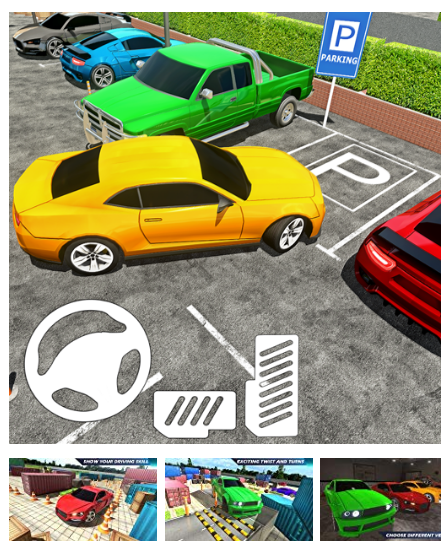 So you think you're an ace at driving and parking? Think again, with this nice-looking app with strong graphics and motor sound effects. As you start, reversing is not an option, so get it right or be forced to watch... ads!
Luxury Car Parking (by Oppana Games)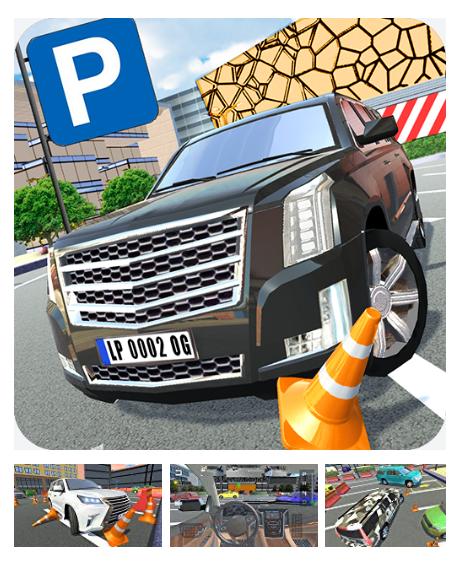 There's not a lot of choice of vehicle type here, but there are many levels of difficulty. Also, the ads are not too intrusive. When it comes to gameplay and graphics, the results are impressive, and if you make it through enough levels, it's likely your real-life car parking will have improved! This little app could have been more fun or imaginative, with a point system for damage and irate car owners giving you so many chances. But Luxury Car Parking is still worth a look.
Boat Parking 3D Driving Simulator (by JUUQ Mobile Games)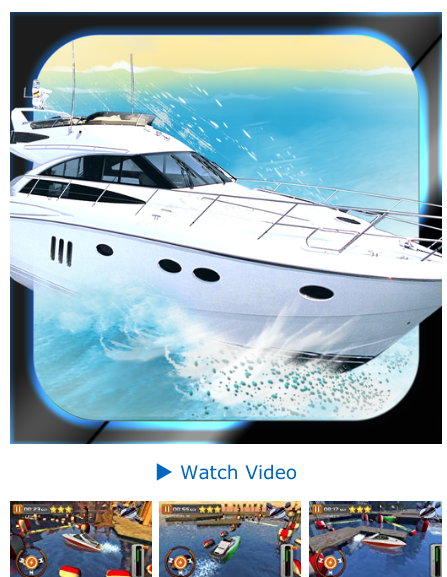 Unfortunately the ads are too annoying, but the game feels very true to driving a real boat, due to the delay involved with speed and steering. There are 3 motorboats to choose from and the graphics are decent enough quality.
So there we have it folks: a handy quick-list of apps that take on the challenge of replicating a challenging parking experience on your phone or tablet. It's time to belt up!
For more Parking Games: Search: Amazon Appstore or Google Play but don't forget to linger a while here at Gaming Impact and play some of our free in-browser games or wide array of mini-games featured here.