31.10.2019
10 great Zombie Horror video games (a quick-list) for Halloween 2019 (+ beyond...)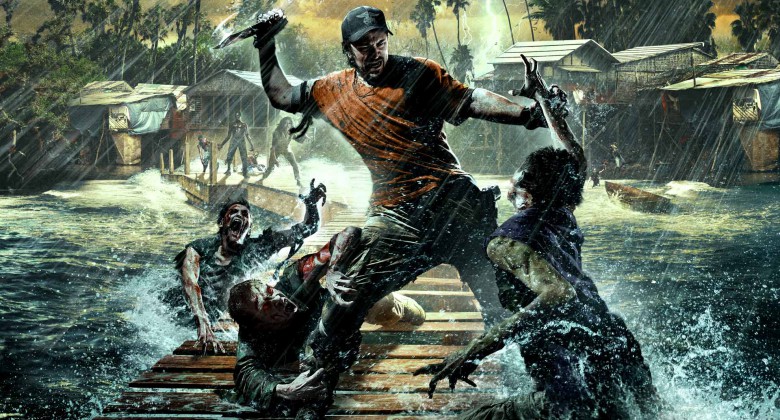 Another year, another Halloween... another wave of flesh-eating horror thrills as yet again you must prepare yourself to do video game battle... or be overcome.
Welcome to our speedy, quick-list round-up of gruesome, deviant Zombie horror video games to check out this Halloween and beyond. But beware... it's not for the fainthearted. Game developers have been working round-the-clock to make sure you don't find peaceful sleep again.
But what makes for a great zombie game? Tons of fast, arcade shooting in gory detail? A gripping story that twists and turns and strong comrades unexpectedly get taken? An open-world RPG with a host of options and co-op multiplayer? Raw survival co-op where you need all your resources to push back brain-munchers together before re-building the remains of a shattered society? There's surely something for everyone...
You can watch the trailers and read a little about each one... if you have enough courage.
Dying Light 2
Developer: Techland
Platforms: PC, PS4, XBO
Release: 2019
Co-op: Online 4 Players
Competitive Multiplayer: TBA
In this zombie-filled world, you'll be dealing with both refuge-seeking human factions and zombies. Choose your side or stir up trouble. Outside of exploration and zombie-battling, you'll be able to make decisions that lead to results, either positive or very, very negative.
The Last of Us Part 2
Developer: Naughty Dog
Platforms: PS4
Release: TBA
Narrative was driving the huge success of the first title, so expect it to be a driving force again here. It's set a few years following Joel and Ellie's hazardous adventures before. A mix of FPS and Uncharted-style, flowing cut-scenes. Surely both zombies and humans will be hostile, but it's looking like zombies might be at least the more predictable option.
Resident Evil 2 Remake
Developer: Capcom
Platforms: PC, PS4, XBO
Release: January 25, 2019
The leading name in survival horror with blend of task execution and puzzle-solving returns where this time you must escape Raccoon City in the shoes of Leon S Kennedy and Claire Redfield.
Dead Island 2
Developer: Dambuster Studios
Platforms: PC, PS4, XBO
Release: TBD
This long-awaited sequel has again a big focus on melee combat. The first game has gamers stuck on a resort island as a zombie pandemic spreads rapidly.
GTFO
Developer: 10 Chambers Collective
Platforms: PC
Release: 2019
Party-focused video game for 4 players to set out on a bleak adventure filled with terrible enemies. Buckle up.
Back 4 Blood
Developer: Turtle Rock Studios
Platforms: PC, PS4, XBO
Release: 2019
Back 4 Blood is a sequel to the Left 4 Dead series. It's being taken hopefully in a fresh direction, but will have similarities too. Expect to see a big campaign and multiplayer option.
The Black Masses
Developer: Brilliant Game Studios
Platforms: PC
Release: 2019
This upcoming game will surely involve battling the undead, but also building up fortifications. Crowd-rendering technology will again make this title one to watch.
World War Z
Developer: Saber Interactive
Platforms: PC, PS4, XBO
Release: April 16, 2019
World War Z brings more chaos to the zombie action game, based on the Brad Pitt movie. Dealing with such huge numbers of zombies will be your challenge, so strategic play, including trap placement will be required.
Days Gone
Developer: SIE Bend Studio
Platforms: PS4
Release: 2019
Ex bounty hunter Deacon St. John must use every skill and resource known to him in order to survive this fallen world after a zombie apocalypse. There are two different species of zombies now evolved, so players will be forced to handle them in certain ways. And there are quite a lot of them, to say the least. Night and day, and weather conditions also affects gameplay and zombie behaviour.
Overkill's The Walking Dead
Developer: Overkill Software
Platforms: PC, PS4, XB1
Release: 2019 (Consoles)
Four-player co-op option will take players on a narrative FPS adventure based on The Walking Dead series and comic-books. It's set in Washington, D.C. Hopefully, development and improvements will continue to improve the game.


And... if you don't have the guts for any of these right now, don't forget to try out some of our boat-load of great mini-games here at Gaming Impact, from classics like Solitaire, to platform games, zombie games and more…. Free, addictive and instantaneous!