25.11.2020
4 Essential Games you need to play on your new PS5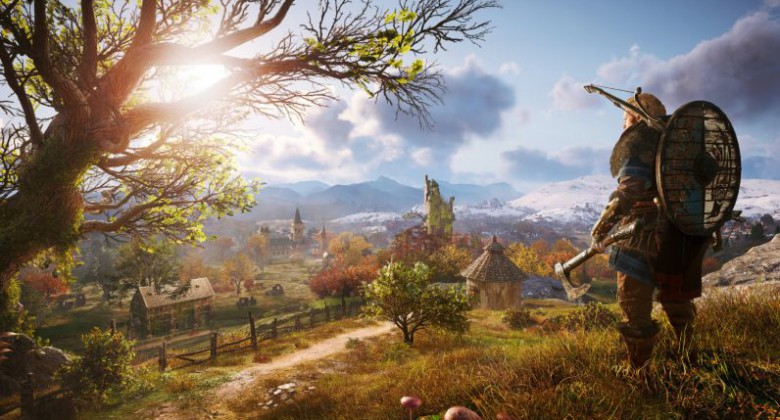 So you've finally got your shiny new PS5 in the house (or are waiting) so now it's time to start putting it to use.
Even if you're still trying to decide on whether to buy the full Console Edition, or the Digital Edition version, you can check out the following round-up of essential games you'll be able to enjoy.
As a bonus, the first one on the list is actually 'free', since it comes installed on your PS5 already...
Astro's Playroom
This truly flexes the new feel of the Playstation 5 and despite being free is a great single-player adventure game. Receiving rave reviews online, the platform game lets you play as the small, endearing robot, in a large, alluring world made up of four different environments based on PS5 components.
And this is where the game really excels: in how it demonstrates the feel and capabilities of the DualSense wireless controller. There's a ton of content to keep players busy interacting and uncovering secrets.
A love letter to Playstation to usher in the next generation of super-games.
Bugsnax
You're on a mission to collect and study Bugsnax, and this means exploring the mysterious Snaktooth island where they dwell. Capturing them isn't alway easy either; you'll need to use a variety of tools correctly. This will lead you into a charming story with some strong themes, and over 10 hours of rich, inventive gameplay.
It's certainly one for fans of Pokemon, and anybody else, so brimming it is with charm and character, which will stay with players beyond the confines of the game.

Spider-Man: Miles Morales
Peter Parker is away, so it's up to Miles Morales to become the friendly neighborhood Spidey on the streets of Manhattan. You may already know those streets and skyscraper-tops like the back of your hands, from the first title.
It's not as long as the original game, but that's ok with us. This stand-alone addition plays brilliantly, drawing on the strengths of its predecessor to offer up another fluid, entertaining adventure, with loads of side content too. Has New York ever looked this good? You can even get a re-mastered Ultimate version of the original game for your PS5.
A must-have highly immersive action adventure game for your next-gen console.
Assassin's Creed Valhalla
The Assassin's Creed franchise maraudes its way onto the PS5 with its Viking-set historical open-world wherein lies tons of quests and content. The more time you spend as Eivor, the more time you will be assimilated into the rich atmosphere and details of this particular time. Sailing from Norway, you'll be looking to set up a new settlement in England.
Hey, it's an Assassin's Creed game, but it's also just had the most successful launch out of all the games yet, it's time to see if the reviews reflect this. Metacritic would agree, since it seems to have taken the strengths of its recent titles and updated them into this story and setting.
Although this may lack originality for many, why stop a winning formula that enables players to progress deeper into a historical world? Valhalla manages to pull out stops in terms of action and combat to complement the RPG aspect since the start of the whole Witcher 3 trend we're all in right now.
There will be bugs, but apparently this lavish conversion to PS5 has squashed most of them already, and where more upgrades and improvements will arrive to complement an already essential addition to the collection.
The Creed series continues to showcase how far games in general have evolved into rich experiences on the most popular and immediate gaming hardware, before whatever next VR and AR-led immersions await in the near or distant future.
Prepare to get lost once again!
That's all for this round-up of PS5 console games. Don't forget we've got a treasure-trove load of content here for you too. Have a browse around here at GamingImpact.com before you go, and enjoy some of our free browser games and instant, fun mini-games, or check out more articles on our ever-popular blog.