31.08.2020
4 Things Now on Netflix every Gamer can enjoy!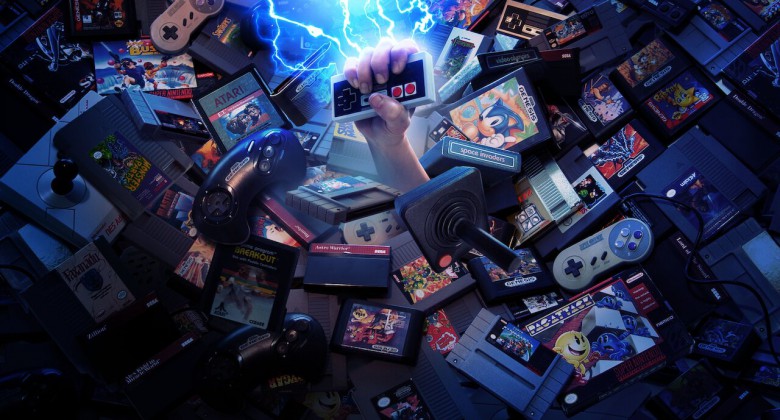 This is our first post here at Gaming Impact covering Netflix movie previews and reviews, and every so often we'll do a round-up of game-related titles to check out.
After all, everyone needs a break from button-pushing immersion, and time to unwind and reflect on gaming with a strong dose of history, fantasy or high-octane action… Don't miss these!
'High Score'
Let's start with some history. Gamers anywhere should check out this excellent documentary on Netflix: 'High Score'. It documents the rise of games from the early 80s arcade machines and its growth in leaps and bounds alongside the web and internet technology. It does it in a fun style with retro graphics than bring a light-hearted tone to it all.
You'll learn about the creation of the worst game ever made and hear from the winner of the early Nintendo Games championship, when the 'Game-Boy' was just taking off and before 'e-sports' was a thing.
There's occasionally too much detail which will make it drag for those less interested in games, but it covers some interesting personal takes which reflect just how influential, addictive or revolutionary the world of video games was, and, really, still is.
'The Dark Tower'
Based on the Stephen King book series, this is an exciting slice of dark fantasy plus sci-fi. It's a lot like watching cut-scenes from a video game, without having to play in between! It has awesome performances by both Idris Elba as The Gunslinger and particularly Matthew McConaughey as The Man in Black. These characters clearly had the depth to elevate the film even higher, but with the script what we got was okay.
The fantasy combines western elements with sci-fi fantasy not seen since 'Cowboys and Aliens' (also good fun, and still on Netflix) but here things are tightly bound to its principal theme of a desperate struggle against a formidable - if somewhat inexplicable - force. There's nothing deep here at all, just a film with a quick pace, some good ideas about overlapping worlds, intriguing characters, and the hope of a better sequel and more fun fantasy. It doesn't look like a sequel will ever come though.
'Atomic Blonde'
A modern spy thriller based on a graphic novel 'The Coldest City'. This gives us a pace which varies from slow and chilly, 'pulp thriller'-ish scenes (if a little dull) then elevated with style to sudden break-outs of eye-wincing action. It's for the latter that makes this one worth a watch, and Charlize Theron continues to craft a strong reputation as the modern Sigourney Weaver of Netflix. Once again, it's just entertainment without playing a video game. James McAvoy even turns up in this one, as restless but watchable as ever.
Baby Driver
Be sure to check out 'Baby Driver' too, for you drivers out there, and 'Fast and Furious' fans. This one combines more in-depth character portrayal with cerebral driving tactics and once again, bank robbers. It's more accessible than the stylish cult angle of 'Drive', but there's tons of music and some breath-taking driving scenes.
Just beware these last 3 movies for Netflix watchers are somewhat dark and violent.
Once these picks have been seen and believed... you can go back to playing games again!
Even better, we at GamingImpact.com have got a load of free mini-games you can play straight away here in your browser, and also really interesting ones, but requiring a little more time and effort. Dive in and enjoy!