23.08.2021
A video game about... metal-detecting?! Yes…and no...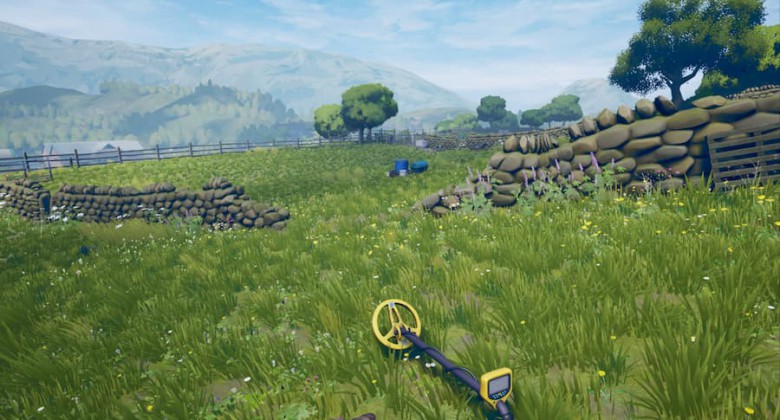 In fact, 'The Magnificent Trufflepigs' is more about getting absorbed into a delightful, distracting narrative-based game, as much a homage itself to the English countryside and its characters. With the right hardware at 4K on your PC, the colours and graphics of the grass and scenery come right out at you. You might say it's a short but perfect antidote to Covid-based blues, and for those still in lockdown, even just for the few hours it takes to play.
There's some metal detecting yes, which is actually fun too, as you walk up and down an English field, but the narrative ensures you'll need to pay attention. Of course it's a bit of a walking simulator, but not as overweight as the (otherwise pretty decent) 'Firewatch' game proved.
When Beth was a child you see, she spent a load of summertimes helping her father look for treasures. Now, with some problems going on in her life, she requests the help of her friend Adam. It's a testament to the whole game that needless to say, you become involved in their story, and yet you never see them, and they never meet up.
If you like narrative-based games and can recall the (spookier) likes of 'Everybody's Gone to the Rapture' then you'll be pleased to visit this little story about Beth and Adam, and take something away from it into your own life. The voice acting here and the strong writing is what elevates the relaxing, intriguing experience of metal detecting, even if you find only a bottle-top sometimes. But also, there's a missing family heirloom out there which is the big objective, and the reason Adam has been brought in to help Beth.
Video games can be something deeper like this sometimes. It also makes you feel that there should be more games (read also 'Fountellion') bringing the simulation of nature into gameplay, story and just the experience of immersion. Of course, nature underpins many a beautiful indie game or survival open world, but most of the time, characters are made to move around constantly within it, just to stop players getting bored.
So hats off to The Magnificent Trufflepigs for reminding us what is possible with this heady, meditative mix of gaming, scenery plus story. It would be nice to see the developer studio create something for VR next, or a version of this.

You'll have to keep your detectors tuned to Gaming Impact, because we only highlight interesting video games, of all kinds, to bring to your monthly attention. While you're here, check out our ton of fun, super-distracting and free mini-games, or delve into our deeper array of browser games for all the family. Want to know what our best, Top 20 free browser games you can play instantly?
Do you remember 'Everybody's Gone to the Rapture'? It was an earlier, English-set PS4 etc. indie game which was also described as a 'walking simulator'. There was a lot of walking about, but it was also more like a radio play, full of the ghosts of 1980's-ish characters whose voices recount strange events which overtook their lives, and disturbed their already problematic lives and relationships. But there was real potential there, exploring the power of audio in video games. There's also some kind of way for games to preserve culture and memory, through vivid recreations of - and interactions with - times and places. Museums could learn a few things for interactive exhibitions of history.
Does 'The Magnificent Trufflepigs' return to this kind of format successfully and do a better job? Drop a comment below, and help others make up their minds.