09.10.2018
Explosive Party Gaming!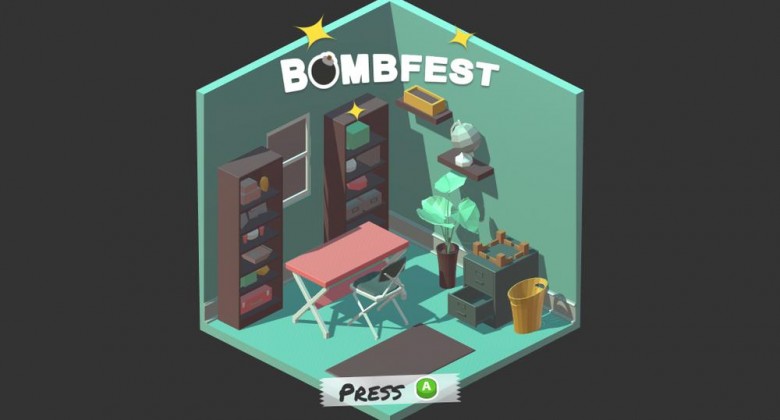 This little corker of a game focuses on the pure fun involved in multiplayer, especially when it comes to moments that can make playing sofa-bound buddies both challenging, surprising and suddenly hilarious. It's the kind that can function as the best kind of party ice-breaker, tailor-made for local play and shared spaces.
You'll be quite literally KO's or knocked over (sorry!) with Bombfest which is now playable in beta. With accessible controls (for all platforms) and dense but varied mini-'arenas' of battle, you must pitch your wooden-style 'character' in hunt and throw bomb frenzies to garner the most badges, and even win the 'crown' for the round.
The controls are super-accessible or 'pick up and play' and the level of interest stays addictive thanks to seven types of bombs and twelve arenas that progress to become more interesting. Expect to get more than just cornered into wooden blocks and blasted off table-tops. You'll need to take advantage of 'destructible towers, cardboard traps, and speeding toy cars'.
There's no doubt this is a cheerful and fast-paced slice of pure method in mayhem for up to 4 players. Just don't pick up the wrong bomb, or become a victim of your own crazed bombing ambition!
Give this family-friendly game a whirl but keep it reserved on your PC etc. for that next wild party, or maybe it's just the perfect excuse to organise one!
Kickstarted!
Note: This title has recently been fully funded on Kickstarter (https://www.kickstarter.com/projects/238126128/bombfest-explosive-fun/description) so we can hope to see more options, characters and stages being added. Check out the Stretch Goals to learn why it's still important to support (and enhance) this project, with lots of goodies still available direct from development.
The full game will launch in January 2019.