12.04.2019
New Star Wars trailer for Episode 9: The Rise of Skywalker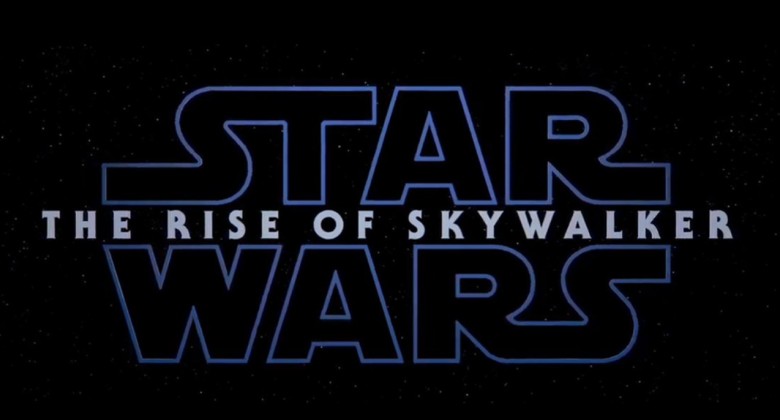 The Force returns in the final episode of the central saga featuring the Skywalker clan versus the Sith, Clones, the Empire/Emperor and back again, the First Order. Skywalkers have had a rough ride to be fair, and deserve a 'hiatus', which is apparently what they'll be getting after this one, according to Disney.
It's looking pretty epic and will have to be, considering every episode has been so far in some way or another (yes, even Darth Maul's makeup), and this will be the final act.
Many questions there are and the future is cloudy... uncertain... Surely the particular Skywalker in question will, in fact, turn out to be Han Solo's misfit son? What role will Rey play in this destined 'rise'? Will Princess Leia do very much, considering she'll be CGI-animated? Will Poe Dameron get to occupy much screen-time, considering he's the best actor and character of these newer movies? Will he keep his jacket on? Will Yoda get one last line? Balancing all the quick changes of emotion in a Star Wars movie certainly takes a combination of talents, but especially Kasdan-style script-writing, a true word-wielding jedi.
J.J. Abrams and co. will hopefully have pulled out more stops to this grand organ of a galactic saga, while keeping the soul and angst as climactic as the final saber battle in The Force Awakens.
The Last Jedi, although divisive, had some terrific moments and much-needed, unexpected twists. Meanwhile, if you've not yet seen Solo, be sure to check that one out too (or again, as it deserves a second viewing).
One thing certain only will come to pass: that not everyone will be pleased after the release... or will they? For there lies the real accomplishment for any Star Wars director. We'll have to wait and meditate in fear for now. We'll have to reach for our controllers not sabers...
Yes... for meanwhile, there are other force-powered events to look forward to thanks to the world of gaming...
Upcoming Star Wars Games
In terms of new games, we've got Vader Immortal to look forward to. This will be an immersive slice of VR that will hopefully herald well the launch of Oculus Quest standalone headset. It will hopefully feed the hunger for more, next-gen VR experiences, including Star Wars ones.
And even bigger, from the creators of Apex Legends, Star Wars Jedi: Fallen Order, set after Revenge of the Sith. This links to our previous article, but we plan to write more soon as they're new updates on this title coming out here in April.
Tell us what you think about the Star Wars 9 trailer, or just stay tuned to Gaming Impact for we shall bring you more vital signals from a galaxy far, far away... if they're worth it!