22.10.2020
Nintendo Switch owners: Take cover for Sniper Elite 4 this November!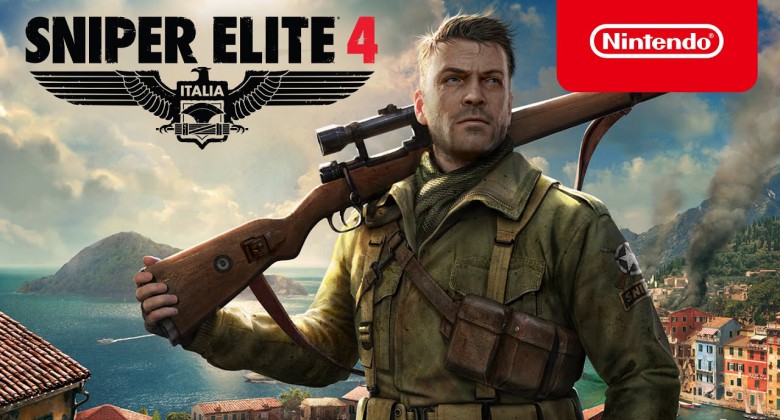 Owners of the Nintendo Switch will be able to take a firm grip on the WW2 scenarios reproduced in the thrilling FPS game Sniper Elite 4, scheduled for November 17th.
Rebellion's stealthy sequence of sniping games have included a mission where you got to take out Adolf Hitler himself. It's not included with Sniper Elite 4, but you will get a game that has honed the fine art of 'scoping and stealth from its predecessors, revelling in the sneaky task of zeroing-in on enemies from afar.
It's a game about exploring and progressing, choosing the right place to find cover, scoping out the landscape diligently, and then working out the best way to achieve an assortment of mission objectives.
The maps are bigger and better, allowing for more freedom - and more things that can backfire and leave you shooting everything in a panic just to survive. Despite the stealth mechanics, sometimes a pile of bodies really is the only way through.
In this acclaimed title, as a hardy sniper you will be thrown into Italy during World War 2, in order to assist the resistance movement against the Nazis.
If you're not familiar with the series, you may at least have heard about the X-Ray kill cams, which can be too gruesome for some (you can turn them off) but for most they heighten the feeling of progression after taking out a target (and sympathy for various body parts).
What's less well-known perhaps are the game's advanced ballistics, melee combat and take-downs. On multiple occasions you'll just be left wondering how you could have improved your route to target, since there is so much freedom. What about making a distraction?
You'll need to implement a brutal array of WW2 weaponry with finesse, from traps and grenades, to pistols, rifles and SMGs.
You're responsible for your gear. You'll need to upgrade accordingly in order to progress.
What's in it for the Switch version?
Quite a lot actually, besides holding the game right between your hands, only the VR game (see below) may surpass this sense of immediacy or immersion.
Otherwise, with Sniper Elite 4 on Nintendo Switch, you'll get local wireless multiplayer, motion aim controls, HD rumble support and pro controller support as icings on the cake.
Get ready too, for both co-op and multiplayer modes, available via local and online play modes.
So, soldiers.... keep your keen eyes peeled for Sniper Elite 4 arriving on Nintendo Switch next month. It's one to get, and it packs a whole lot of impact.
That's why, of course, Gaming Impact is hunkering down and watching 'Saving Private Ryan' again just to feel prepared.
Sniper Elite VR
Sniper Elite VR will soon be released for Oculus Quest 2, PSVR etc. and is also hyper-anticipated. It will be another big magnet for hardcore console gamers to 'move' into VR. It could be the next bullet in the magazine for adopting VR as 'the future' for gaming, where familiar titles become even more thrilling, realistic, immersive experiences. VR kill cam? Now that's gotta be seen.
Gaming Impact will bring you more on this, but for now there's still time to play our own Top 20 free, browser games and best selection of free mini-games in all the wide web!