08.06.2018
Pokémon: Let's Go! Announced for Nintendo Switch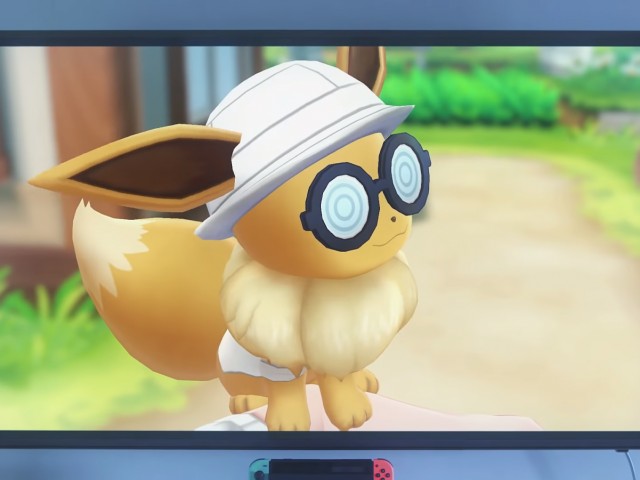 Game Freak finally announced the first two Nintendo Switch Pokémon games, Let's Go, Pikachu! and Let's Go, Eevee! They'll play as reimagings of the 1998 RPG Pokémon Yellow so that means you can expect to venture through the Kanto region and encounter all original 151 Pokémon as well as see familiar faces, such as Professor Oak and Team Rocket. Much like Pokémon Yellow, Pikachu, and now Eevee will accompany you, but now on your shoulder or head throughout the game. Oh, and now able to be dressed up in adorable outfits.
The distinct thing about Pokémon, Lets Go is that it looks to have a lot of unique mechanics and experiences compared to its predecessors. From the trailer, we get a sense that there will be no random encounters and that you can now see which Pokémon are hiding in tall grass and engage them as you want. On top of that, it looks like capturing wild Pokémon acts similar to Pokémon Go, where you use one Joy-Con to "throw" Poké Balls. They also left it ambiguous if battling wild Pokémon will still be a thing but battling NPC's was present and reminiscent of the classic turn base system. Co-op play was shown as well. Friends can join in on catching various Pokémon, venture through the vivid world, and participate in intense battles.
In the trailer, something appropriately named called the Poké Ball Plus was shown. It's used as a Joy-Con controller at first but then shows that you can now take your Pokémon for a stroll out into the real world. The official website also said this product can also be used with Pokémon Go. This leads into the next part of the trailer where Pokémon are being transferred from Pokémon Go to Pokémon Let's Go, and those Pokémon are placed in something called GO PARK. It is unsure if this is just going to be a way to just interact with Pokémon from Pokémon Go, or if they will be actually usable in the Switch game. The trailer also featured being able to send Presents to Pokémon Go from Pokémon, Let's Go and we were left on a cliff hanger with the message, "You'll meet a Special Pokémon" at the end of the video.
Both Let's Go, Eevee and Let's Go Pikachu will be available exclusively on the Nintendo Switch on November 16th for a retail price of $59.99 each. The Poke Ball Plus accessory official pricing hasn't been announced outside of Japan, but it's likely to be around $45.