28.05.2021
Star Wars Pinball (VR): 'Play it again... for the first time!'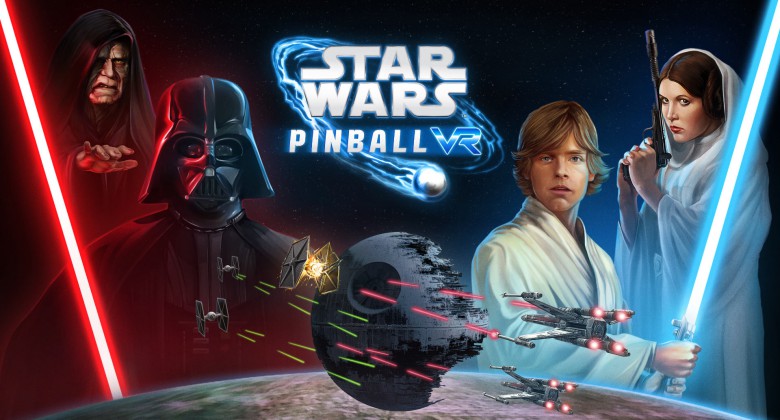 Our game highlight for this month is none other than Star Wars Pinball VR for Oculus Quest 2 etc… Yes, you get to play pinball and witness all the Star Wars bells and whistles, but you also get a decent range of 8 tables for the money you pay, and much more realistically too. Who needs a real pinball machine?
The Oculus Quest 2 makes VR more accessible than most other headsets since once you've got over the initial setup, getting familiar with the feel of the controllers etc, it gets easier to put on and use. There's no need to slot in your mobile phone and you can protect yourself from bumping walls by drawing a 'magic circle' where you want to use it.
This also means that this super-realistic VR version of classic Pinball is also easy to access. If you're a fan of the Zen pinball mobile apps, and with the great tables they created in homage to classic movies, then you'll be at home here.
However, this time you can play these major tables, but as if they are actual pinball tables. The feeling is very different, and for one thing you can put your head closer and get a much better view. In fact, you can put your head right super-close to the table if you wish and follow the ball around! This enhances gameplay more than any mobile app.
Not only this, but characters come to life around the table, and the mini games are much more intense and surprising, meaning you'll be really looking to play better and get to grips with a particular table. Warning: some are clearly easier than others.
Not got a headset yet?
The Oculus Quest 2 is not suffering from shortages like Playstation PS5 etc. in the wake of Covid-19, so the good news is you can pick one up on Amazon in the same sort of price range.
Is it worth it? Are you put off by its Facebook log-in and Facebook social connections? It's true, Oculus and Facebook accounts are linked but it shouldn't stop you from enjoying this great, immersive technology. For one thing, the Facebook log-in doesn't affect much, since you can disable all the social settings, allowing you to keep your virtual sessions private, and without notifications.
For those with lots of online friends who are interested in social VR, then the flip side is that Facebook is trying to explore and promote this aspect, so you'll find a lot of apps which can 'go social', leading to more fun while playing certain games. And you can also share free, virtual personalised environments, including virtual cinemas where you can watch videos and trailers.
And if you're a pinball fan, then Star Wars Pinball VR is an essential purchase. Hopefully, Zen will make more VR pinball editions, including the brilliant Alien ones, and bring out updates and improvements to what they've created here. It could be an even more intense experience!
What else?
What else is included? Well, you get your own virtual basement that you can personalise and decorate with Star Wars features as you unlock various achievements and high scores. It's really a collector's dream and gives you an incentive to play and unlock more. I'm not sure if you can share it, and invite friends yet, but it looks to be a likely feature.
For those out there who find pinball boring, you might be surprised how this blend of Star Wars and 3D immersive, virtual incentives can breathe amazing new life into the simple, addictive art of ball flipping.
And using the Oculus Quest 2, you get a sense that this is only the first of many such classic or arcade games, which will come to life like never before, via the power of immersive VR.
Stay tuned to Gaming Impact where we'll highlight more VR games worth splashing some considerable cash for, but where the value is clearly evident.
Meanwhile, check out our awesome range of free mini-games and family browser games (instantly playable without anything more than a computer and screen!).