28.02.2020
The Best Fun Motorbike Game Ever? Have a blast with 'Trials Rising'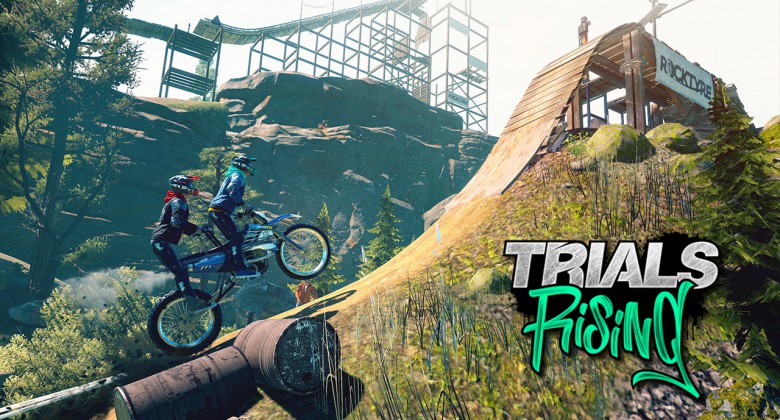 Trials Rising from Ubisoft and developed by RedLynx is over a year old, but it could still be the best dirt bike video game we've ever played. It's certainly the best stunt bike game. There's a reason for this: a rich heritage of the series (over twenty years) has been nicely distilled into this one package. [You should read this review, since a generous free demo is currently available on PS store (etc.) so you could soon find yourself testing out the ride for yourself.]
Let's just say the courses would be a tad too risky in reality, yet they are realistic, certainly obeying the laws of gravity, leading to great exhilaration and fun. This is a blend of racing and platform game, forcing you to think fluidly, quickly, with trial and error as the constant teacher. Jumping and spinning across canyons, through buildings, propelled into the air on mechanisms that trigger explosions; no physical possibility is safe from imaginative exploitation in Trials Rising. In no time, you'll be balancing your stunt bike with ease, knowing when to lean forwards or backwards, or boost your acceleration downhill for some great somersaults over the next jump - or rapid succession of jumps. This heady mix of obstacle course racing, creative platform game, plus the potential for doing tricks (the cake icing) is very unique. It all combines to create mad, mid-air, puzzle-solving antics with exciting, entertaining outcomes.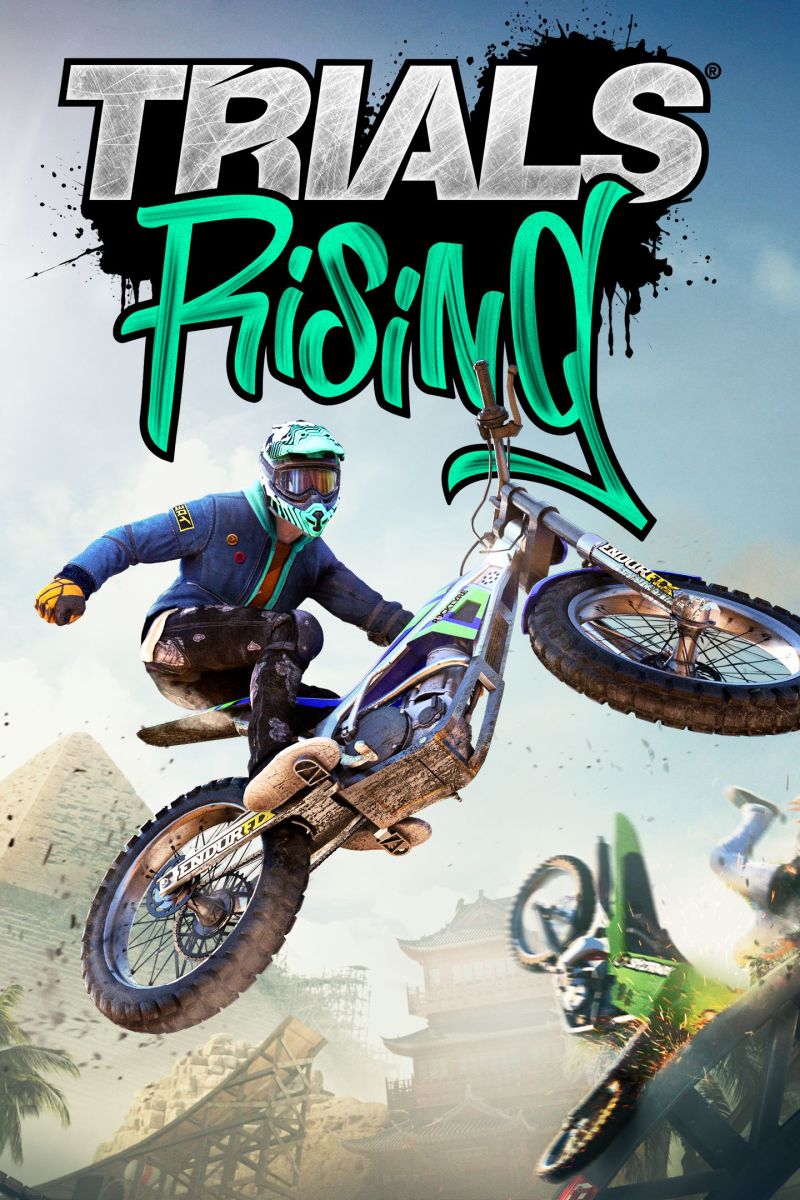 The game also manages to tap into that greatest of achievements; making it even good fun for your friends to watch, as they await their turn to fly high, or crash heroically. But instead of trying to achieve the best time, you can all play together in Party mode.
Your hapless rider (capable of being outfitted in some outlandish costumes) will find itself contorted into all sorts of uncomfortable positions. Accidents, despite being painfully and comically simulated, are not gory though. Gravity variables responsible for all this provide a heap of entertainment. Crashes will be frequent, until you can master the level of balance required, which will then open up the more intense, dedicated gameplay. Happily, merely tapping the circle button will see you instantly back on your bike, a little earlier on the course. The means gameplay is pretty constant; uninterrupted, so the game is addictive both to witness and experience.
The central menu options are represented by a world map and Tour. Progression will unlock new events across different regions.
The game is colorful and awesome to look at, with sound effects that enhance the fun or comedy of the action, as when random folk are cheering at inappropriate times, or at more correct times, when motivation is needed or progress rewarded. There are things going on in the foreground or background, or various triggers you may not notice until many replays later. Meanwhile, just finishing a course can be a spectacular affair. [Hint: And pressing the triangle button (PS4) allows you to vacate your vehicle entirely.]
More longevity
Of course, all these satisfying, fluid thrills and button-pleasing action will wear off in time. The good news is it gets replaced with an eagerness to complete more courses, meet with greater challenges, try out multiplayer and beat your best times. In solo play, your opponents are visible as ghosts to keep up with, or overtake. These opponents represent actual fastest times achieved by human players.
Indeed, Trials Rising has some good features to keep you going. For one thing, the local multiplayer isn't split-screen but gives four players the space to operate on indoor and outdoor tracks. Local play multiplayer is perhaps stronger than online play, thanks to the strong party mode, allowing extensive sofa-playing longevity. One notable and handy feature relating to this, is where you can choose an item that will reward the winner amongst your friends: extra slice of pizza, soda drink etc. So you better get practicing.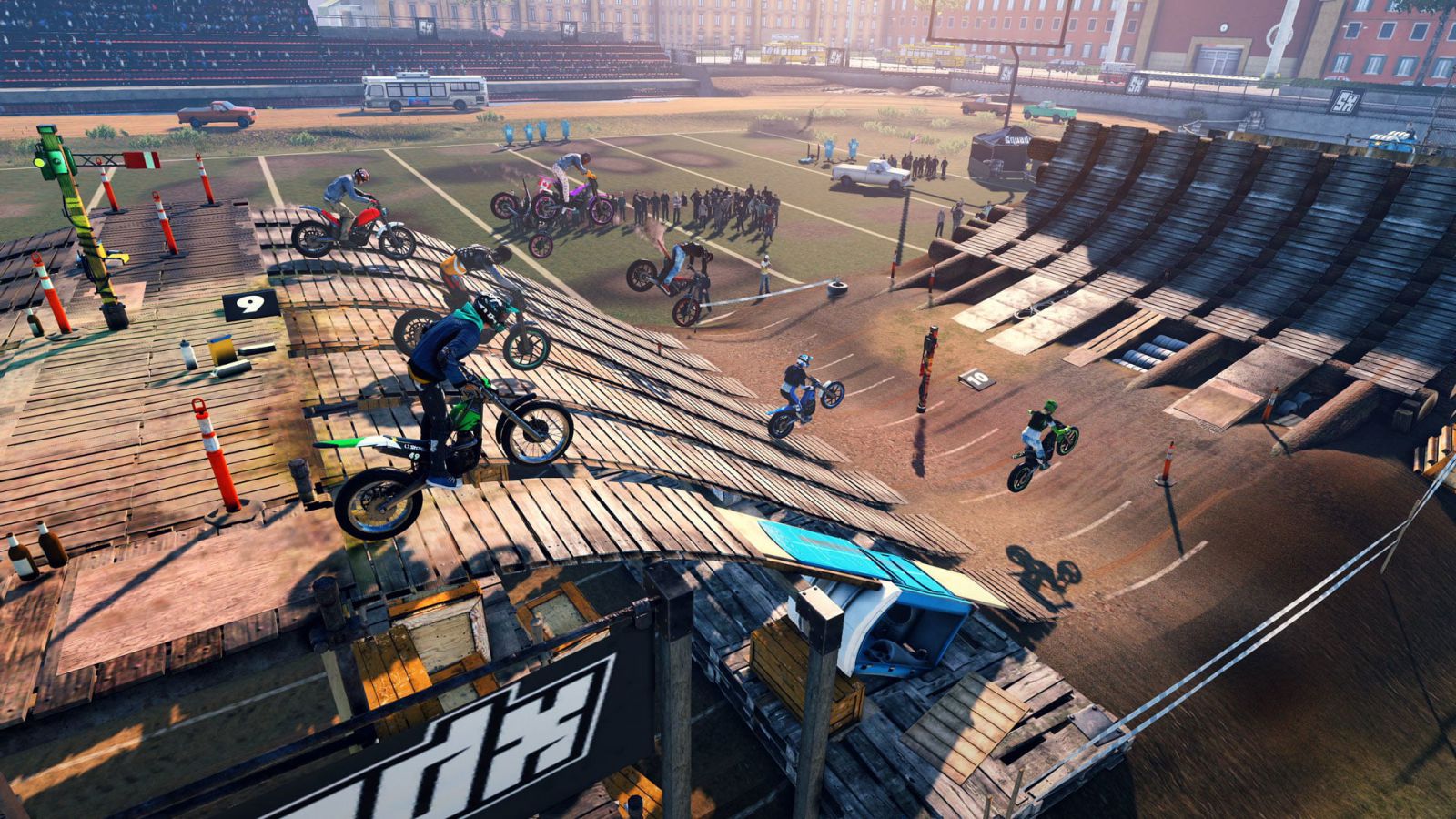 Fortunately, the 'Trials University' area allows you to hone those skills and practice balance and bike control with a series of challenges to complete.
There's also a track editor and the ability to play other people's tracks, ranging from the original, highly voted, or simply insane.
Overall
Yes, it's a motorbike game, not another expansive, tiring, open-world RPG grind. The name of the game here is fast-moving, death-defying stunts and speed bursts that push all the right buttons, perfect for filling up vacant slices of time before some heavier narrative-based game or Netflix binge takes over. You might even capture some stand-out mayhem or impressive play, where the re-play options are most welcome.
So don't miss out on the free demo of Trials Rising, right now on PlayStation Store etc, which graciously allows you to try out several courses, a bit of University tuition and a local multiplayer track. It's a crafty plan: you might soon find yourself giving in, and forking out for the full game. It's well worth many a therapeutic ride.
Here at Gaming Impact, we like to highlight games that make an impact on us, and Trials Rising is one of them.
Remember you can dig out a vehicle-themed, free mini-game from our wide selection of minigames, playable directly in your browser.