18.01.2019
The Best Mobile Game of 2018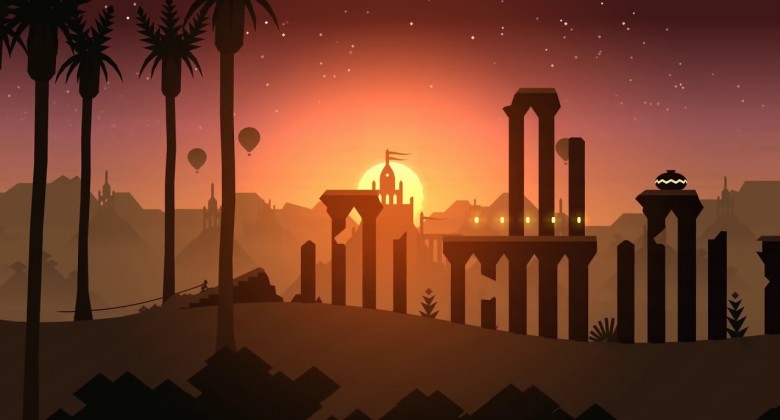 Well, there can't really be a best, it's just a way for us to highlight a great game, and one that lends itself especially to the mobile platform. Even then, near the top of such a hypothetical list, would still be Alto's Odyssey, sequel to Alto's Adventure.
Besides Zen Pinball, there can be no better mindless but diverting brain-treat, and it doesn't even involve having to shoot anyone or anything. We're talking relaxing fun, with a spiritual Journey-esque vibe and atmosphere that accompanies you as you do nothing more than snowboard downwards through a rolling backdrop of magical, mountainous landscape. [What's Journey? You can read more about that hugely influential indie game here.]
If you've not played the first title, Alto's Adventure, then you're bound to fall over a fair number of sharp rocks when you first start your descent, but this shouldn't last since you quickly improve to spend far more time whizzing downwards or jumping airborne with the occasional somersault.
Go with the Flow
Yes, it's just a physics-based arcade snowboarding game (without the snow in this one), but after those initial rocks the game proves what the perfect mobile game should be: (re)-playable anywhere, anytime, and providing a fine dose of finger-pressing immersion.
What's new?
Alto's Odyssey has a bit more depth, with air balloons to bounce off, wall riding (which can be tricky to perfect) and whirlwinds that bear you up higher. The most impressive thing about these Alto games however, is the hidden emphasis that Team Alto have placed on their potential for non-stop motion. This involves both the procedurally-generated landscapes (never the same) with their small challenges, which provide that extra impetus to keep playing. No longer are we presented with the same sections and feel it a grind to have to survive through the same scenery. Instead it's always unique and allows the challenges to re-emerge in continually fresh circumstances.
Don't forget to try the Photo Mode (in the main menu) at least once, so you can zoom right out and share at least one gorgeous snap of the experience.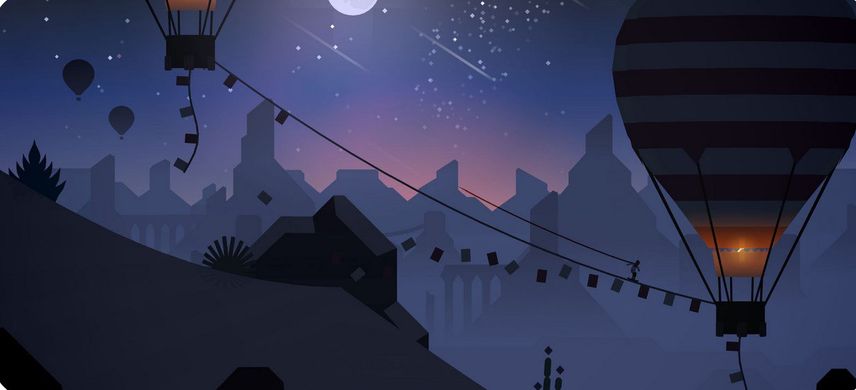 The Zen Trend
At the main menu, you can still swipe to the left and enter Zen mode as before, which strips away the game restrictions to leave an open-ended, chill-out surfing experience (with different music). However, the rocks are still there(!)
All this laid-back, arcade formula seems to be a successful trend in mobile gaming: create something with simple, very fluid gameplay and blend it with lush, flowing visuals and ambience. They have a nice feel to them, and reward smartphone-bearers with a sustained kick of surprising detail, a gradual, unimposing rise in challenges and some kind of happy, satisfying ending. Short-ish and sweet; these games do the job.
Money
It's free to play, with of course the annoying interruption of ads cropping up (when you crash down). These can be taken away with a full purchase. You can also buy other players/characters early, or just unlock them later by progressing.
Collecting the in-game currency on the slopes allows you to purchase items or enhancements (even a wingsuit). This means you don't have to buy them, but there is the option to buy a bunch of these coins, and again, unlock all this stuff earlier on.
It's not overly long: five levels is enough chill-out eye-candy to make you feel contented, and enlightened. Don't forget to come back to that ever-essential Zen mode.
With the ripples from Alto's Adventure and Odyssey, you might expect to see more imitations arrive into app stores 2019 and beyond. No bad thing.