23.08.2021
The Return of QUAKE !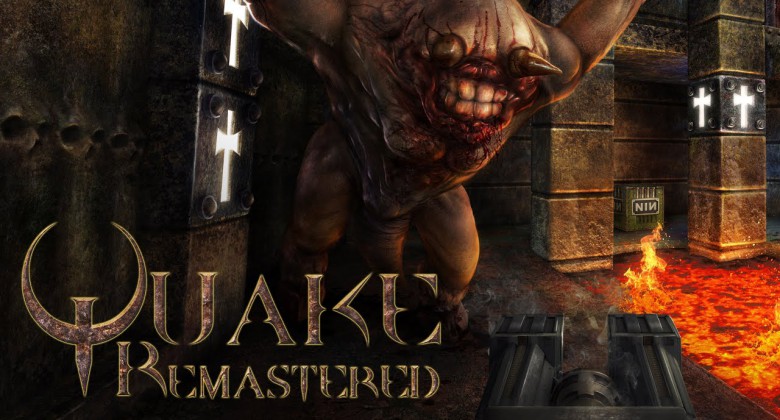 Quake is now remastered by sneaky old Bethesda and suddenly available on PC and console, and it's clearly been put together with love and respect by creators and fans. Don't worry, that soundtrack by Trent Reznor is also back.
If you're a fan of DOOM and retro FPS games then you'll need to pick this one up for its bargain price and level of content. If ever there was a perfect port you can die for, then here it is. You'll be reloading your shotgun and blasting your way through meaty level maps with relish once again. Quake Remastered makes it onto our special blog only featuring games with serious impact!
Quake was a classic of its time, taking its education from the earlier Doom and introducing new mechanics, weapons, blood-thirsty monsters and well-made, fully 3D maps.
It's possible that your PC back in the day wasn't even able to run the game as it should've been, but playing on Nintendo Switch for example solves... well, everything, and running at 60fps. If you're a fan of gyro controls for aiming, then you're in luck too.
You also get options to run it in its original graphics, and not the remastered version. But for the low price, you also get all the expansion packs, drop-in 8-player multiplayer deathmatch and full co-op plus (4-player) split-screen options (you'll need a paid Nintendo subscription) and the option to add successful modded versions and Quake 64. This is what Deathmatch is all about!
By the way, as a cool extra bonus you also get Dissolution of the Machine, an expansion pack made exclusively for the remastered version.
That's a lot of content; a sweet box of hellish shooting action-frenzy to keep you engrossed until the small hours of the morning, especially during the dying light of the holidays.

Indeed, justice has finally been served for Quake to rise again as the comeback king, or sidekick, to FPS history.
PS5 Note: Quake remastered is yet to come out for PS5 but you can expect this to emerge in due course.
So it's great news for FPS fans everywhere: Quake will always be a top choice in your collection for letting off steam and going up against a new generation of shotgun-toting players - and those hellbound hordes.