04.12.2020
Will 'Doom: Eternal' play best on the Nintendo Switch?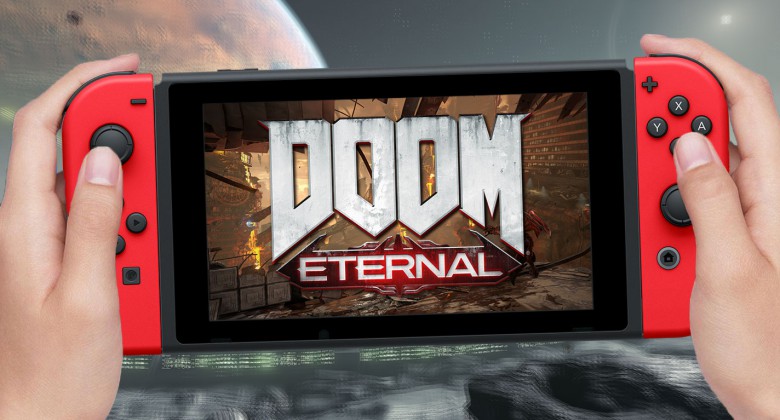 ...we'll find out on December 8th, when Doom: Eternal emerges, ported onto the Nintendo Switch, and available via the Nintendo eShop. But the answer is: yes, most probably better than any other console. This is because it will come with 'gyro aiming', or motion control, for more precise aiming.
What is Gyro Aiming Motion Control?
Particularly effective in titles like Splatoon 2 or Breath of the Wild, it can allow for more precision of a perspective in certain conditions, like when aiming a real weapon, giving much more accuracy than the thumbstick.
So, where turning around quickly, or when there's a lot of space to cover, can be achieved via the thumbstick, the actual aiming can be done with Gyro Aiming. The result can be to pinpoint targets and clear them quicker. There may be specific customisation options such as sensitivity you can adjust for this, in the related game settings.
This is thanks to the presence of a gyroscope inside the Joy-con controller (and the Pro Controller, and on the Switch Lite) which tracks how you move and rotate it, and how fast you do so.
A mouse still takes the award for being the most accurate, on a PC, but Gyro Aiming certainly allows greater precision than the thumbsticks on consoles.
This will still remain to be seen with Doom: Eternal. Not every game with Gyro Aiming or motion aiming control necessarily works best for that title.
However, there's a lot of hope since the upcoming port version has been executed by Panic Button, who've also handled other Bethesda titles.
Single-player and Multiplayer
There are many titles, such as Overwatch, where gyro aiming assistance is essential in multiplayer action, to remain competitive against other players.
However, Doom Eternal is not known for its multiplayer, but the single-player campaign could be a lot more satisfying knowing you can pick out those hellish demons with super precision.
Are you ready?
The critically-acclaimed Doom: Eternal is an exhilarating game with big impact, coming soon to an incredible console, which is why here at Gaming Impact we need to mention this event in gaming history. A riot for the senses, it also has amazing level design. It's the sequel to Doom (2016) which re-booted the franchise to outstanding reviews, and managed to continue and elevate the experience of FPS.
Beyond the campaign mode, players can also jump in online in Battlemode. There lies the infamous 2v1 battles, where one Slayer is pitted against two friends in the guise of demons. You'll need to come out the best in a best-of-five round match, to prove yourself mightiest.
Interestingly, there's no 'Deathmatch' multiplayer mode in Doom: Eternal, considering the original Doom pioneered it. However, Bethesda made a strong case for omitting it, partly since it's such an old gaming mode now.
Note: You can also stream the original Doom on PS Now and the Xbox streaming service.
If you're interested to read more about Gyro Aiming, we found this great article particularly for Nintendo Switch owners, with a list of games where you can find the feature.
Stay tuned to Gaming Impact Blog for more round-ups, highlights and news on select games which blow us away. Meanwhile of course, you can play our easy, free mini-games just for fun in your browser, along with so many richer, deeper games (browser-ready) for all members of the family to enjoy.
Dec 2020