27.11.2020
Your 3 free, PS Plus games for December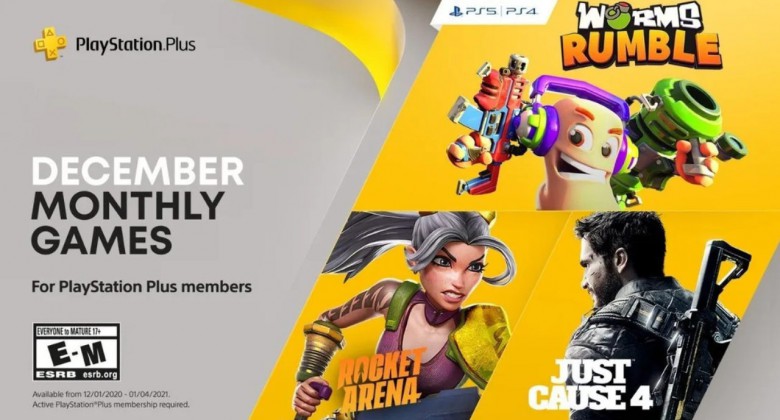 That's right, we're on the cusp of great things… the beginning of a new month, the December free game line-up for Playstation Plus subscribers! for both your trusty PS4 (and your shiny new PS5 too, if you've been lucky enough to get hold of one!)
What has Sony Santa put in the stocking this year? Well, nothing too shabby that's for sure. Which means you've not got long to wait finishing the November ones (see bottom of page), or for playing our host of instantly playable, free mini-games and top-notch family browser games right here at Gaming Impact!
Check out the line-up with gameplay trailers:
Worms Rumble
Coming to PS Plus in December is none other than Worms Rumble, the latest in this long-running franchise. Worms fans will love this upgrade. Gone are the Lemmings-style days of 2D team battling; say hello to 3D arenas where up to 32 players battle it out in real time. The weaponry will be quite something to get to grips with, and hopefully much of the cute but off-beat, explosive comedy slapstick will remain.
Just Cause 4
Here you fill the boots of main character Rico Rodriguez in an open-world, action-packed adventure in the vein of Far Cry. The weather effects are amazing, but you'll need to blast, skydive and parachute your way through them in the rugged terrain of South America.
Rocket Arena
Again a multiplayer game, for three to play against three. First, select who to play from a line-up of characters with their own individual powers and skills. You'll need to get used to your favourite and master them if you're to become the arena champion.
These three stormin' titles will be available for your downloading pleasure, from next Tuesday, 1st December, but will disappear after 4th January 2021.
This means you may still need to….
Get the November ones quick!
Your days are now (very) numbered to download the November PS Plus games which are…. Middle-earth: Shadow of War and Hollow Knight: Voidheart Edition.
And if you don't have the time to do this, then don't worry, we have a perfect solution for you…..our own awesome games, right here at Gaming Impact, which are playable right through any browser and include family games and super-fun mini-games.
Stay tuned to our mighty Gaming Impact blog, where we bring you more round-ups, game news and highlights of games which make an impact, and may deserve a place on your console or PC hard-drive, if they're to your liking.
NOTE: PS5 users have also enjoyed access to Bugsnax, and the PS Plus Collection, which bring a whole host of classic PS4 games to your new PS5.