01.08.2021
3 of the v. best Games so far in 2021...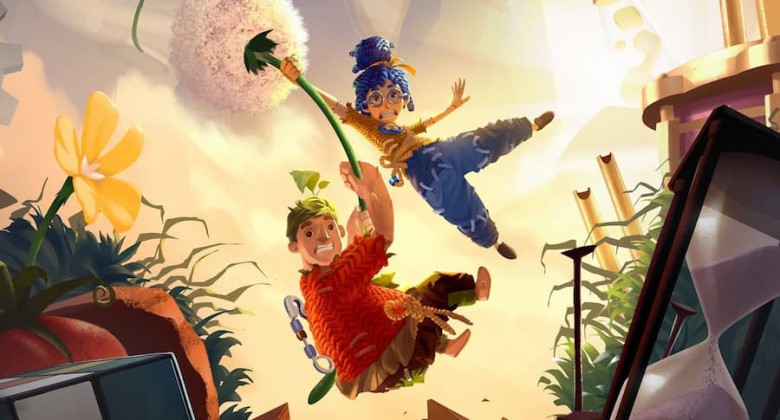 Let's take a moment to highlight a fistful of the best games to have arrived here in 2021. That's right, games with impact. Don't forget we offer a wide selection of the currently mega-popular browser-based games you can play instantly, so check out our own selection too. Now, back to business...
1. It Takes Two
We've seen a lot more co-op gameplay around in 2021, either in VR or on console. It makes sense, since there's a massive market for games for couples or friends, and with pandemics limiting parties. But tapping into the co-op aspect only - effectively - is no easy feat - but It Takes Two demonstrated it can be done. In fact, they've designed it particularly for people who know one another, and not even for randomised online play.
It's a story about a daughter casting a spell on her parents that turns them into dolls. It was actually her attempt at keeping them together, as their marriage has been getting rocky. Each player controls one of the parents, and the excellent adventure that now unfolds.
They must now work together in a nicely varied mix of gameplay that always intrigues. Solving puzzles, traversing terrain, completing platform areas, or using a glider to fly - all through a vivid, super-colorful world like you're both inside a big-budget animated movie. It all feeds into a memorable experience you'll both be glad to have shared. What else are games really for, but bringing people together, or even better, keeping them together!
2. Hitman 3
The last - possibly ever - in the Hitman series goes out in real style. Previous Hitman games have always occupied a special place, demonstrating how stealth games can be a field for so much strategy and tension, when you're given as much room as the level designers can give you, to pick off targets and approach your ultimate objective.
Virtually every time you play, you can try something new or find yourself in hotter water than you've ever been before. Youtube became riddled with players showing how you can (hilariously too) create unexpected situations, or be the ultimate ninja-Hitman and complete a level via some unthinkable - or secret - shortcuts.
The cream on the cake is here you can import previous levels into this upgraded version, where mechanics and graphics have been souped up to look eye-popping-ly good on next-gen consoles.
Hitman is back, perhaps for the last time, but you'll be re-playing levels for a long time after.

3. Subnautica - Below Zero
Last of the cream of the crop goes to the sequel to 2018's Subnautica which finally arrived this year. It showed how the original could be upgraded and improved in so many ways. Despite the emphasis on story this time which will have you properly immersed, this is of course another game simply about the thrill of exploration, crafting and surviving.
It's a vast underwater world down there, and its diverse, alien mysteries will keep you playing, and your heart racing. In fact, long after the story has finished, you'll likely find yourself continuing to play, because this imaginative experience is able to celebrate the art of exploration through all its mechanics. It also makes you respect and fall in love with your own units and creations you must assemble for survival.
A game of meticulous detail and imagination to make you think and adapt to its rich, underwater environment.
That's it for this speedy round-up of the best games to play in 2021 so far. Will anything beat them? We've got some money on Aliens: Fireteam Elite coming out soon, and possibly some groundbreaking Oculus Quest 2 VR games. Or will it be a game about cats?
Stay tuned to Gaming Impact blog and don't forget to play some fun, free mini-games instantly in your browser before you go! There are so many!